January 6, 2011
Wall Street bull - encased in crochet
Pictures of this crochet bombing in New York have been all over the Internet over Christmas. So nice of Olek to give him a cosy coat in the sub zero temperatures.
This video is fabulous, showing how she did it.
Posted by glittrgirl at 1:19 PM | Comments (0)
December 7, 2010
Quotidian: day 3
For goodness sake, how hard is it to spell 'HARD DISK'?! I had to unpick some of this yesterday evening. I'll finish the DISK tonight. Probably only one word will get done, I need to finish my Christmas cards, scan in photographs of my childhood and eat chicken curry.


Posted by scumkitten at 7:12 PM | Comments (0)
December 5, 2010
Quotidian: day 1
I'm not good at sewing. I've not done much of it, including the more decorative side of things (embroidery). But I love words, and I love trying stuff out, and I love doing things with someone else... hence being keen to work with glittrgirl on this project. I don't have an embroidery hoop, but its amazing what you can find lying about the house: a roll of masking tape and a hair band do just as well. So here's my first square.


Posted by scumkitten at 6:05 PM | Comments (0)
October 6, 2010
Finished Zoro wedding quilt
For the marriage of my cousin Barney to Lucia. Finished in time, amazingly, my first quilt. I really enjoyed doing it, so apologies that it isn't knitting, but... well it segues nicely into the Digital Embroidery, yes?
Used a mixture of material I already had and others that I bought in sales- cheapskate! Underside is a lovely polka dot brushed flannel. Includes Mexican glittery skulls due to the couple's love of Mexico. Pieced by machine, quilted by hand. Mitred corners.

Posted by scumkitten at 6:04 PM | Comments (2)
September 20, 2010
Teeny tiny stop motion animation: knitting can save your life too.....
Posted by glittrgirl at 4:43 PM | Comments (0)
September 1, 2010
Embroidered digital commons
The Embroidered Digital Commons (EDC) is a project taking place from 2001-2012, an artwork faciltiated by Ele Carpenter as part of the Open Source Embroidery (OSE) project, utilising social and digital connectivity.
The project in its totality is to create an embroidery of the text 'A Concise Lexicon of/for the Digital Commons' by the Raqs Media Collective (2003).
From the EDC website:

This distributed embroidery aims to collectively stitch terms from the Lexicon as a practical way of close-reading and discussing the text and it's current meaning. Each term is chosen in relation to the specific context of its production.
Some terms have already been completed, some are ongoing, some have yet to start and many have not yet been claimed.
We at gkk have asked for a term to be reserved for us. Our term is:
QUOTIDIAN
And the Raqs Media Collective definiton:

Quotidian: Common but not commonplace. The memorable nature of the everyday. Memory walking down a street and turning a corner. Memory buzzing in a hard disk. Ubiquitous, the dirt in a site, the fog in a liminal zone, that which is thickened through repetition.
Milk, computers, onions, computers, pyjamas, computers, carpal tunnel syndrome, computers, accidents, computers, sex, computers, bread, computers, night, computers, class, computers, skin, computers, love, computers, money, computers, headaches, computers, police, computers, buses, computers, bicycle, computers, radio, computers, horoscopes, computers, matrimonials, computers, funerals, computers, biscuits, computers, conversations, computers, silences, computers.
The quotidian is that which makes a journal turn, over time, into a history, because it induces the search for patterns and meanings in an otherwise tangled mass of time, in memes iterated beyond reasonable limits. Routine, yet random, the quotidian nature of anything demands fleeting moments of lucid engagement with the real world, which now includes within it the world that is forged every time any fingers do a qwerty dance on a keyboard. The quotidian is a measure of all things, rare and commonplace.
I may have been a bit stupid to choose a term without realising how long it was.... this is one of the longest in the lexicon... but in terms of our initial thinking I am convinced we made the right choice.
We have yet to finalise our thoughts on what our patches will be like aesthetically, and how much of a coherent integrated artefact we want to end up with, but we have decided that unlike many of the other terms currently being created, ours will not be a community created piece.
Ours will be a term created in the private social digital space between the two authors of glittyknittykitty, who are at opposite ends of England geographically, but which will be shared via readers of this blog, and via our other more public digital personas in social networking spaces.
The only thing we have agreed on, apart from the term 'quotidian' is that our creative energies will be pushed via the need to blog daily.
A quotidian activity.
Ideally we would like to finish and blog a patch a day. We may not finish one every day, however we will blog daily about our progress.
As we agree on how we will do this project, and what the guiding aesthetic principles for our term will be, we will blog more under the 'quotidian' category on this blog.
Please don't ask if you can take part in our EDC project. We will say no.
But you can contact Ele and create a term yourself. She would be delighted to hear your ideas.

Posted by glittrgirl at 3:42 PM | Comments (1)
March 7, 2010
Yarnbombing happened today in Newcastle
Guerilla knitters hit Newcastle today in advance of Maker faire hitting town for the second time as part of ScienceFest. Co-incidently it coincides with AV2010.
I have too much on at the moment to have taken part in today's knitting shenanigans, but I am pleased that many local knitters took part :). Well done!
Posted by glittrgirl at 11:05 PM | Comments (0)
December 16, 2009
Cool Google Chrome knitted video
Posted by glittrgirl at 4:46 PM | Comments (1)
October 23, 2009
Her secret is patience
Via Craft:

I love how this ethereal piece by Janet Echelman looks at night.
Posted by glittrgirl at 1:34 PM | Comments (0)
October 13, 2009
Two of my favourite things: knitting and Iittala
Firstly, thanks to the design blog Mocoloco for allowing me to use the photo here- two of my favourite things, Iittala ceramics and knitting. The Mocoloco blog's entry shows examples of London Design Week Knitty Gritty embellishment of the finnish design company Iittala's more winsome products, including a plate I seriously covet, a lovely ceramic bird, and some retro pudding glasses (with some gorgeous and very regal hats). Very good idea for keeping your apple crumble warm on a cold finnish night if you need to go outside to chase away wolves or feed your reindeer.

Posted by scumkitten at 2:50 PM | Comments (0)
October 9, 2009
Reblogging from Craftzine: Yarn City stop-motion animation
Lovely!!
Via Craftzine.
Posted by glittrgirl at 4:00 PM | Comments (0)
September 2, 2009
A challenge: Twitter Knitters @ Shipley Lates, 25 September 2009
Twitter Knitters is a project for Stitched Up, one of the Shipley Lates on 25th September 2009, 6-10pm, Shipley Art Gallery, Gateshead, Tyne & Wear, UK.
Glittyknittykitty will be hosting a cosy knitting corner where you can try your hand at freeform knitting - but there is a catch. You can't get all comfortable without having something to keep mind and fingers occupied, for a little while between drinks from the bar.....
Your challenge, should you choose to accept it, is to bring something, post something or to knit something on the night (or indeed all) in 140 stitches or less. Based on the 140 character limit to the microblogging and social networking site, Twitter, we have devised a series of rules to help get your creative juices flowing. Join us as we build Twitter Knitters at the Shipley.
Rules for Twitter Knitters
Knit something in 140 stitches or less to contribute to Twitter Knitters. 140 stitches must include your cast on and cast off rows, any increases or decreases.
Twitter Knitters is a community based collaborative knitting and decoration project intended for fun, to stimulate creativity and wackiness and to provide a conduit for tangential knitting, textile art and good humoured tactile banter, based on the 140 character limit imposed by Twitter.
The idea of Twitter is central to this challenge. If you have a Twitter account and are taking part, please capture your contribution on Twitter, preferably with a pic and using the tag #shipleytwitterknitters.
Knitted Tweets (small projects or bits of knitting) will be created by glittrgirl and all who want to take part, and passed round as knitting WIPs (works in progress) to anyone who wants to add to them, or create their own Tweets on 25th September 2009, at the Shipley Art Gallery, Gateshead, Tyne & Wear, 6pm - 10pm. These Tweets will be joined together to create a Twitter Knitter stream.
Tweets may be made prior to the event, either as pure Twitter Tweets (Twitter entries), and/or as Knitted Tweets. To be included in the physical Twitter Knitter stream, the Tweets must be available during the hours of 6 and 10pm on 25th September in the Shipley Art Gallery, Gateshead, Tyne & Wear. If you wish to take part from outside of the immediate area, please leave a comment on this blog, and send your 140 stitch masterpiece, to arrive no later than noon GMT on 24th September 2009 to:

Twitter Knitters
58 Low Friar Street
Newcastle upon Tyne
Newcastle
NE1 5UE
England

Anything received after this date will not be included.



Participants on the night of 25th September may add to, embellish, graft on to, attach, change colour, pattern, yarn or in any other way increase the modalities of textile conversation in the Twitter Knitter stream.


Participants must NOT frog, remove or alter any work done to point of receipt unless there are specific instructions to do so, which you are entitled to ignore if you so wish.


Participants may use any materials or embellishments preferred, but by agreeing to take part must agree to add at least 20 stitches of knitting to the Twitter Knitter stream.


The challenge is to be as creative as you can in 140 stitches or less - use whatever size needles you like, as many strands of yarn held together as you wish, increase, decrease, short rows, create a 2 dimensional or a three dimensional addition, add buttons, bows, ribbons, sequins and shiny things.


By agreeing to participate you agree to contribute freely your time, ideas, yarn, embellishments and postage (if applicable)l.


Knitted Tweets cannot be returned. They will form part of the larger Twitter Knitter stream of objects.


By agreeing to take part you are putting your work and ideas into the public domain, and as such should be prepared to allow your work to be altered and added to by others. By agreeing to take part you give over the right of others to alter and redistribute your work.


The Twitter Knitter challenge will end at 10pm GMT on 25th September.


Any questions please post a comment here with your email address and we will get back to you.
Please note: Some needles and yarn will be available on the night, but feel free to being along anything you would like to see included or would like to contribute to the project.
Thanks to MBE Newcastle for the local mailbox facility.
Posted by glittrgirl at 9:31 AM | Comments (6)
July 6, 2009
Watch out online for knitters on the 4th plinth!
Plinthknitter (Rav name) is taking part in One and Other, Antony Gormley's latest project to fill up the 4th plinth in Trafalgar Square with real people for an hour each, for 100 days, 24/7.
You can watch online at the One and Other website.
Plinthknitter (a.k.a. Anne Makepeace) will be there on Sunday, July 26th from 5.00 to 6.00pm. She needs some help with her knitting before she goes up there.
You can help by sending her knitted or crocheted flowers. See attached file.
Edited to add: Mayor Boris Johnson lives up to his reputation: "We may have lost the People's Princess but we have the People's Plinth......... someday my Plinth will come......"
He should be in entertainment rather than politics surely!
Posted by glittrgirl at 8:43 AM | Comments (0)
April 20, 2009
Go and see this and let us know what you think...
One of our readers sent me this email:
hello i am in my second year at Bournemouth arts institute and we are holding an exhibition called 'cradle' in bournemouth gardens openning next friday(24th april) - i will be producing many pieces of knit to be wrapped around a tree. My piece is called 'The story of the second skin' and it show my progression from amature knitter to a slightly better one! who has discovered a big love for knitting! My goal is to put my mothering skills to extreme use and see how they test against the elements.
here is a link to our website- my name is jess hill so you can find my profile there- http://www3.clikpic.com/artbournemouth/ If you could give us a mention on your blog that would be brillant, you are welcome to use images from the website- i could get your add on the website contacts in exchange. thank you for your time. Jess
This event looks like great fun and I wish I could go!
Thanks Jess and good luck with the show.
Posted by glittrgirl at 11:28 AM | Comments (1)
April 16, 2009
ReBlog from Boing Boing: Teeny tiny knits for Neil Gaiman's Coraline
Posted by glittrgirl at 10:03 AM | Comments (0)
April 3, 2009
Fluid Sculpture from Charlie Bucket
Found via Craft:


Fluid Sculpture from Charlie Bucket on Vimeo.
Posted by glittrgirl at 1:49 PM | Comments (0)
November 26, 2008
Don't let it all unravel
An animated short, shown at the Encounters Short Film Festival. Don't Let It All Unravel, was directed by Sarah Cox, and all the action is knitted - or frogged....
Spotted at CRAFT.
Posted by glittrgirl at 11:29 AM | Comments (0)
September 16, 2008
Alicia Ross: Love Swing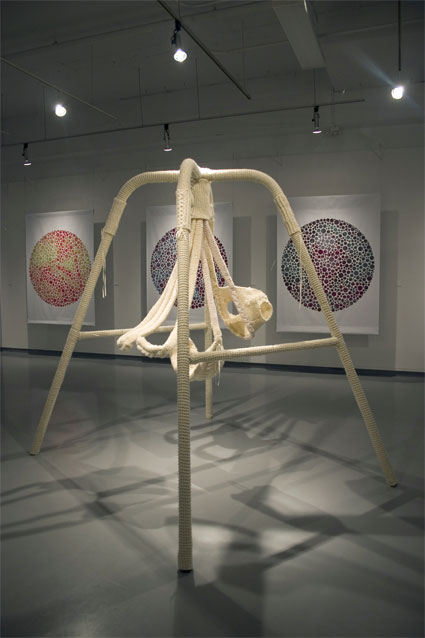 Found via we-make-money-not-art, this sculptural piece is entitled Love Swing, and is by Alicia Ross. Love Swing fuses knitting in a virginal cream coloured yarn with a sex swing frame, and addresses notions of woman as nurturer and woman as object of sexual desire. It took 3 months to knit and used 30 skeins of yarn.
Love Swing is part of SACRED_PROFANE, a solo exhibition by Alicia Ross at Black & White Gallery, New York.
Posted by glittrgirl at 12:11 AM | Comments (0)
July 28, 2008
Another knitting opera
You can see The Diary, a knitting opera, at Riverside Studios in London on 7 & 8 August 2008.
Set in the 1960s, our anti-heroine, Vanessa, sits alone in her bedsit, knitting and thinking. Her diary tells us the story of her isolation from the changing West End around her. Drug-fuelled orgies to which she isn't invited, music that she can't groove to, fashions that she can't afford; all conspire to cross her stitches. Knit one... Purl one… With a needle in one hand, yarn in the other, there is only one way to cast off this confusing world.
You can book tickets online.
Posted by glittrgirl at 1:44 PM | Comments (0)
July 21, 2008
Norwegian artist seeks stories about unfinished knitting...
I had this email today from a work colleague:

Hi glittr,
I was talking to J about an artist I met in Oslo. She is working on a book project documenting unfinished knitting. And J told me your hidden talent----that you love knitting!
So may be you would be interested in the artist's project.
Her project is called 'Archive; The Incomplete and Forlorn'. She is asking people for their stories behind an unfinished knitting.
You will have to send her the knitting, she will then photo it and send the knitting and the photo back to you. She will contact you for the story about the knitting of course.
Hope you will find it interesting to join! She is keen to get stories from around the world, so pass the words on!
cheers
l
So if you are interested, do get in touch with the artist! It looks an interesting project and I know that I have boxes of UFOs......
Posted by glittrgirl at 10:21 AM | Comments (0)
July 17, 2008
Beautiful woolly organs
BoingBoing reports on these lovely knitted organs, made by Sarah Illenberger. They look sooooo soft.
Posted by glittrgirl at 11:40 AM | Comments (3)
May 5, 2008
If I was nearer London, I would have gone to see this...
Posted by glittrgirl at 1:25 PM | Comments (0)
April 28, 2008
knit-a-blog to be shown at HTTP, London
Do you remember the knit-a-blog?
It is being shown in gallery in London, called HTTP as part of the Open Source Embroidery show.
The show opens on 16 May and runs until 15 June 2008.
Many, many thanks again to the knitters who took part.
Posted by glittrgirl at 10:10 AM | Comments (2)
February 14, 2008
A knitted yurt

Lisa Anne Auerbach, over at The Little Red Blog of Revolutionary Knitting, of Steal this Sweater fame, has knitted a fantastic yurt! Yes a whole yurt. And it is bloody marvellous!

Posted by glittrgirl at 2:51 PM | Comments (0)
Knitted shields, Zoe Papadopolou
Courtesy
we-make-money-not-art
.
Artist Zoe Papdopolou
has created
knitted shields
for electrical devices to block out electromagnetic waves for people sensitive to them. These are being exhibited at Design Interactions at the Royal College of Art, There is a
video
interview with a great explanation for her ideas, and some fantastic pictures over at
wmmna
. By knitting cosies with wool and wire she can stop her domestic appliances from emitting electromagnetic radiation.
Posted by glittrgirl at 2:22 PM | Comments (3)
February 10, 2008
Knitted landscape, new photos
A while back we blogged about www.knittedlandscape.com.
There are some great new photos there, we saw this one over at Whip Up which reported on this landscape intervention via Ravelry.
Posted by glittrgirl at 8:15 AM | Comments (1)
February 8, 2008
Tricot machine: Les peaux des lievres
Posted by glittrgirl at 10:15 AM | Comments (0)
January 7, 2008
Excerpts from Close Knit

Close Knit is dance piece that involves a piece of knitting that stretches across the entire stage and has eighteen spots on it for dancers to knit.
Posted by glittrgirl at 2:17 PM | Comments (0)
November 23, 2007
Rachel Denny - knitted trophies
Thanks to craftzine.com for pointing us to these fantastic sculptures by Rachel Denny. I love them!

Posted by glittrgirl at 4:14 PM | Comments (1)
November 6, 2007
Laure Drogoul - Amplified knitting
An
event
highlighted at
Craftzine
featured Laure Drogoul's amplified knitting project. Nice photo, but I would have loved to experience the primary sensory experience in this project. The audio must be intriguing.
As the Baltimore Sun notes:
Depending on the knitters' numbers, their speed and Drogoul's soundboard manipulations of wooden, plastic and steel needles, both fat and slender, a unique acoustic universe is revealed. It may conjure the echoing footsteps of someone spelunking blindly in a cavernous room. Or it may evoke the collective heartbeat of a knitting bee, lost in the repetitive rhythm of handiwork.
Posted by glittrgirl at 9:33 AM | Comments (0)
October 10, 2007
Lego knitting machine
Posted by glittrgirl at 9:54 PM | Comments (1)
Public Art, Private Parts
Posted by glittrgirl at 9:48 PM | Comments (1)
August 27, 2007
Margaret Calvert and the British Road Sign System
I have a bit of a weird thing for maps and signs. I love, for example, the iconic London Underground map. I also love the simplicity of the British Road Sign, especially as on my travels abroad I find other countries' signs hard to understand- although this may well just be due to me being a dunce.
Anyway, it turns out that many of the signs were designed by a woman: Margaret Calvert, under the tutelage of Jock Kinneir, teacher at the Chelsea College of Art. In the late '50's, they came up with the iconic signage we have today, including the blue and white motorway signs, the green and yellow road signs and all the rest....
Apparently the little girl in the 'children crossing' sign is based on Margaret herself, as young girl, although she had to fill the child out a little, as she was too skinny and the children needed to be easily visible...
Posted by scumkitten at 2:49 PM | Comments (0)
August 6, 2007
Emma McCorquodale


I spotted Emma McCorquodale's delicate knitted antique silk garments and jewellery over at labour of heart*. Her work is lovely, light and ethereal.
As they say, she surely is a knitting talent to follow:
... her work is delicate and precious, but at the same time it shows the strength of ideas... The inspiration of her work is the idea of being caught in a space between reality and another world, like a split second, a glimpse of something else. The garments and 'jewellery' pieces are all knitted by Emma in a very fine antiqued silk. Every piece shows details in the form of pointel lace in a scattered random pattern of lace holes adding fragility and delicacy. Emma wants to find a new aesthetic niche, while still remaining wearable and understandable. A knitwear talent to follow!
Go and take a look at her showcase. It's definitely worth it.

Posted by glittrgirl at 1:57 PM | Comments (0)
Stimulus: Respond


Stimulus: Respond is an online fashion magazine which has been running online for some time - they are just about to go into their first printed edition.
Started as a respite from the mundanity of the contemporary fashion press, Stimulus is the first magazine to weave together anthropology and art with the flair of a style magazine and the attitude of street culture. Every two months, we present a combination of literature, photography, fashion, art, poetry and music in order to construct a monograph that explores the foundations of a world that we grow up to take for granted.
Like you we adore beauty in it's simplest form. The things your friends are doing are more important than celebrities you will never meet. Stimulus is brought to you by people who write from the heart, about subjects that they are passionate about. It is a personal and cutting-edge guide to the modern, urban, world.
We aim to reflect the diversity of human ingenuity and experience in both our writing and our photography. We aim to elicit a response from our readers by discussing subjects which go unnoticed by you every day - unnoticed yet on the tip of your tongue. Our goal is to explore and dissect your world using every resource available, to provoke by showing the mundane in an extraordinary way. The world made for you is pale in comparison with a world that you can make for yourself. You know the fallacy of a world without risk and a life without danger. You decide your own path and will make your own choices based on Stimulus: Respond.
This is a very interesting publication and I urge you to take a look at some of the back issues, available to download in PDF, after you give them your email address.

The Travel issue contains an interview and photographs of the work of Swede, Sandra Buckland, a fashion designer who works knitting, origami, folds and pleats together (from Stimulus: Respond):
Knitwear is one of the most misunderstood skills around. Not only are you making the garment but you are actually creating the textile it self. Heyress 07 award winner Sandra Buckland, somehow, seems to combine a talent as such with the perfect understanding of volume and its function on a body, coming up with the most exciting of garments.
Traditional handicraft techniques mix with pleats, folds and origami in Sandra's latest collection "Ink Blot Test" turning her exercise of shape discovery into a brightly colored knitted future.
Thanks to Michaela for the heads up on this.
Posted by glittrgirl at 1:29 PM | Comments (0)
July 26, 2007
Fancy a peek in Port Eliot?
Glittr, our secret agent Angorared, DJ Mikey, the incomparable Martin and I all camped at the Port Eliot Lit Festival last weekend. Despite a large part of the rest of England being drowned, we had lovely sunshine with the odd passing lightly refreshing shower. Yet again, the whole thing was slightly louche, slightly drunken, involving too much food and sun, very large hats and many strangely dressed people.
No photos as yet (I admit, I didn't take any. I was mainly too drunk. Ooops). However, I have just come across this website for a company that develops 3D interactive photographs called Artytechs. This page has a series of demos taken at the Port Eliot estate. Rather nice reminder of a fabulous weekend, darling.
Posted by scumkitten at 3:39 PM | Comments (0)
July 18, 2007
Jess Hutch - Big Toy

Jess Hutch's work has been featured here before.
Her latest project is this huge figure. I love the sense of discombobulation this gives me, and can only begin to imagine the weird play on one's sense of scale which would happen standing next to this chap. More from Jess's blog.

Posted by glittrgirl at 10:29 AM | Comments (0)
July 16, 2007
Knitted landscape


Knitted lansdcape is about knitting, art, inspiration, landscape, beauty, humour, nature, photography, imagination, make people smile.
This is a photographic collection of knitted interventions in the landscape. Not as overtly political as knitta, the pictures are usually of subtle interventions in urban and rural settings all over the world - you would hardly notice most of them without the documentary evidence.
Spotted via iKnit.

Posted by glittrgirl at 9:40 AM | Comments (0)
July 3, 2007
Knitimation
Remember this?
Do the Brane was Winner of Best Animation at The 2007 UK National Student Film Festival.
Made by Max Alexander - www.maxsworld.co.uk
Music by The Stabilisers - www.thestabilisers.com
Well, for your viewing pleasure, Max has uploaded more knitmations:
This is a music video by Max Alexander to the tune I am Ahab by Not-Too-Distant-Future (www.thisisnotmusic.co.uk). After a fight with his girlfriend Ahab becomes overcome with madness and takes drastic action to change himself. But things only get worse when he encounters a blood hungry rat monster. Ahab's quest takes him across turbulent seas and through strange watery worlds on his hunt for a better life. Will he find what he's looking for or will the monsters get the better of him?
These are Donna Wilson's knitted Kate Hare's doing a can-can dance.
Animated by Max Alexander - www.maxsworld.co.uk
Creatures by Donna Wilson - www.donnawilson.com
Posted by glittrgirl at 2:08 PM | Comments (1)
June 22, 2007
Ingrid Wagner: Guinness Book of World Records attempt
4 metre handknitting needles are what Ingrid Wagner is training to knit with, in a Guinness World Record attempt at Newcastle upon Tyne. The full (short) story from the local paper is availale to read online.
Ingrid has teamed up with Rachel John to run workshops their brand of extreme knitting, all over the UK, which have proven very popular. They knit with up to 200 strands of yarn at once on giant needles, to ceate a thick textured fabric whch unique properties.
Posted by glittrgirl at 4:10 PM | Comments (1)
Susie Freeman

Susie Freeman constructs transparent pocketed fabric using nylon monofilament yarn on an industrial knitting machine, leaving open pockets into which tiny objects are inserted. These knitted art installations have been a recurring theme her work of this British textile artist, whose work has been shown in the Crafts Council, British Museum Ethnography Collection,
Victoria & Albert Museum, Geffrye Museum, Whitworth Art Gallery, Gallery of English Costume, Royal College of Arts, Pentonville Prison, Schmerz Hamburger Bahnhof Museum of Contemporary Art in Berlin, Maseno Hospital in Kenya, and the Kwangju Textile Museum, South Korea. Susie's website contains many beautiful images of her thought provoking work.

Posted by glittrgirl at 3:38 PM | Comments (0)
Cradle to Grave by Pharmacopoeia

This installation was made for The British Museum back in 2003, and uses knitted fabric to encase pills and pill warappers, among other things, into a collaborative work between a textile artist, Susie Freeman, video artist, David Critchley, and a GP, Dr Liz Lee. Together they call themselves Pharmacopoeia.
The installation explores our approach to health in Britain today. The piece incorporates a lifetime's supply of prescribed drugs sewn into two lengths of fine grey knitted textile, drawn from the composite medical histories of four women and four men.
There is an audio description of the piece available to listen to online, a website with images. To get an idea of scale, the piece is over 13 meters long. The description and pictures of the installation on the British Museum site are fascinating. Susie Freeman has used knitting in other work she has made, examples of which can be seen in very high quality images in her website.

Posted by glittrgirl at 3:09 PM | Comments (2)
Banksy - Old women knitting punk slogans
Among several taken from his recent show in LA and on the BBC website.
Posted by glittrgirl at 12:05 PM | Comments (0)
May 27, 2007
Bubbles for happiness - BLOW!
Dr Tutti's ongoing performance event, Blow, happens on the last Saturday of every month. Go and check out the Dr Tutti myspace to find out more about it. I went with The Sibling to it yesterday among spectacular storm clouds, which emptied on us just as we were done blowing. Hailstones at the end of May and warm torrential rain at the same time. Weird. Nice piccies courtesy of The Sibling though.....
Posted by glittrgirl at 10:51 AM | Comments (0)
May 17, 2007
Forcefield - video 3
Stunning!
Posted by glittrgirl at 4:40 PM | Comments (0)
April 23, 2007
Radical Lace and Subversive Knitting
The Musuem of Arts and Design in New York is currently touring an exhibition, provocatively titled Radical Lace and Subversive Knitting. It includes many of the artists featured here at glittyknittykitty, or who were part of the recent Craft Council's Knit 2 Together among the 27 in this show. It's on until 17 June at MAD in NY, then available for touring until December 2008. The exhibition is sponsored by Vogue Knitting, so expect to see it featured there soon.
Posted by glittrgirl at 10:34 AM | Comments (0)
April 3, 2007
Sheep
Thanks to peatbogfaery for pointing me to these fabulous sheep....
Posted by glittrgirl at 1:20 PM | Comments (1)
March 14, 2007
Laura Splan
From her artist's statement:
My work explores perceptions of beauty and horror, comfort and discomfort. I use anatomical and medical imagery as a point of departure to explore these dualities and our ambivalence towards the human body. Viruses, blood, and x-rays of bones and viscera can be at once unsetting and enticing. I often combine scientific images and materials with more domestic or familiar ones. The ornamentation of wallpaper or the design of a doily lends a sort of relief in its familiarity and pleasing pattern. This juxtaposition creates a response that fluctuates between seduction and repulsion, comfort and alienation. I try to create work that evokes a dichotomous experience with formal imagery that upon closer inspection reveals some uncomfortable truth about our cultural and biological conditions. My work attempts to challenge our constructed responses to these images by triggering a double take in which the viewer re-evaluates their initial perceptions.
I am often inspired by the inherent qualities of a material or process. I enjoy the experimentation that goes into the discovery that the consistency of blood facilitates its use as ink or the thickness of vinyl tubing lends itself to being knit into a scarf. Deciphering the narrative implications and poetic possibilities within these qualities is an important part of my practice. I am interested in an exploration into the historical and contemporary meaning that a culture projects onto an object, material, or image as well as in an investigation into its technical attributes. It is often important that the work be reflexive and self-contained -- how not only the form of an object can reveal meaning but also the materials and process by which it was made.
Laura has produced a number of works featuring knitting including:



Exam Gown is a revised gown design that is hand knit out of machine washable yarn. The personal and labor intensive quality of the knitting process evokes ideas of a more personal and less disposable institutional environment; images of a patient knitting one's own gown during an extended stay in a hospital or perhaps the hospital staff themselves caring so much about their patients that they knit such gowns. Laura Splan




Blood Scarf depicts a scarf knit out of clear vinyl tubing. An intravenous device emerging out of the user's hand fills the scarf with blood. The implied narrative is a paradoxical one in which the device keeps the user warm with their blood while at the same time draining their blood drip by drip. Laura Splan




A continuous flow of blue liquid is pumped through vinyl tubing. The tubing begins as a tidy ball of "yarn" holding knitting needles and flows through a knit cozy around a catheter bag. Finally the blue liquid drips onto cotton padding. Embroidery on the cotton padding reads "familiarity breeds contempt". The photographs present the typical absorbency tests of diaper and tampon commercials. Laura Splan

Her more recent work continues to explore biology and art.
Posted by glittrgirl at 10:42 AM | Comments (0)
January 23, 2007
Save the Blue Rigi...

The Tate is currently appealing to the public for funds to help Tate Britain acquire Turner's The Blue Rigi. The water colour was sold in the summer to a private collector abroad for a record £5.8 million, but the government has delayed export to allow the gallery time to raise the money to buy it.
I love this painting. It glows. It is our country's heritage. If you want to help in fund raising, you can go to Art Fund for Tate and 'buy' brush strokes from the painting for £5 a pop. You even get to chose the brush strokes you want. I've bought some- they're near the birds, at the bottom left. They even label the brush strokes with your name (on an electronic version, of course ;) ). The Tate need £300, 000 from this fund raising by the 20th of March. So if you fancy owning one of Turner's brush strokes, then you know where to go.

Posted by scumkitten at 11:33 AM | Comments (1)
December 16, 2006
Knitted Christmas

Remember the knitted Ferrari? Craftzine pointed out this commission by the same artist. Lauren Porter's knitted Christmas scene which was commissioned for St. Lukes Advertising Agency in London.

Posted by glittrgirl at 12:23 AM | Comments (0)
December 7, 2006
Does anyone know how to bend plastic?

Because, man, I want to make some of these. Aren't they great?
Thanks to Whip Up for the ubiquitous heads up.

Posted by scumkitten at 3:53 PM | Comments (1)
December 4, 2006
Street Art Workers: Knit for the revolution poster

Back in 2003 (before glittyknittykitty) Street Art Workers had a project entitled Utopia/Dystopia.
One of the posters in the series making up the project was a poster about knitting.... three (nearly four) years later the message is not lost. Not only in this poster, but in most of the series of 22 posters, most of which have a sustainability message.
Many folks excel at criticizing the existing order, but people seldom articulate what they want. As we struggle for a better world, we´re forced to define what that world might look like. Do you envision a society broken down under the weight of capitalism or do you hold out hope for the forces of liberty and equality? In 2003 we put these thoughts on the streets to inspire visions for the future.
Street Art Workers, 2003.
Posted by glittrgirl at 2:38 PM | Comments (2)
November 16, 2006
Nemo, RIP

DJ Mikey's dad is, I would say, a talented painter, despite having no training. He was recently asked to do a watercolour of some close friends' dog (Nemo the Ridgeback) who had died of cancer. I would like to point out that this image was taken from a photo of the dog asleep, rather than some morbid 'death pose'.

Posted by scumkitten at 4:14 PM | Comments (1)
November 12, 2006
Optical illusion art

We've had entries on floor paintings shown in London that play around with perspective and what your brain picks up and thinks it sees. Here's another example, with more on a Russian website.

Posted by scumkitten at 10:52 AM | Comments (1)
October 19, 2006
£76 by Anthony White

I recently became the owner of one of Anthony White's Money Series paintings.... Here it is on the wall in the evening next to Sala's 1000 Paintings piece. Evening shots in autumn indoors in the UK = bad light. But you get the idea.

Posted by glittrgirl at 3:04 PM | Comments (0)
October 2, 2006
Joana Vasconcelos

Thanks to whipup.net for pointing us to the work of Joana Vasconcelos, who was born in Paris, France, and works in Lisbon, Portugal. She has exhibited at the 2005 Venice Biennale, as well as a series of other prestigious galleries and exhibitions, as well as installations in ublic places such as the interior of Restaurante Eleven in Lisbon.

Posted by glittrgirl at 2:18 PM | Comments (1)
September 20, 2006
Knitimation - Do the brane
Ew.
Blew.
Acrylic.
Ack.
Cute knitted critters though....
Posted by glittrgirl at 10:50 PM | Comments (0)
The last knit by Laura Neuvonen
Yes I have gone youtube knitting crazy....... But boy is this worth going crazy over. Thanks to Craft:
Gotta love them Finns.......
Posted by glittrgirl at 10:42 PM | Comments (1)
September 18, 2006
Sonic Youth - Titanium Expose
Posted by glittrgirl at 9:51 PM | Comments (0)
Steriogram - Walkie Talkie Man
Directed by Michel Gondry
Posted by glittrgirl at 9:35 PM | Comments (0)
Camille - Ta Douleur
Man, this is great. Thanks to Cast On for pointing us to this.
Posted by glittrgirl at 9:18 PM | Comments (0)
September 8, 2006
Anthony White money paintings

You might remember that I recently became the owner of number 706 in Sala's One Thousand Paintings Series, and from that site came to know about Anthony White's money series. Well yesterday I became the owner of £76 from the £ series. So it's on it's way to me now.....

Posted by glittrgirl at 11:05 AM | Comments (2)
August 31, 2006
Sock Monkey dress!

Thanks to Boing Boing for pointing us towards this dress by Rebecca Yaker covered in Sock Monkeys, and on exhibition at the Minnesota State Fair along with another one with two monkey heads strategically placed. (Monkey Boobies!) Rumour has it she is now working on a bikini pattern with monkeys on it. If Paul Frank can do it, why not do it in knitting? I have to say I get fed up to the back teeth with seeing Paul Frank monkey stuff (though there is a GREAT piratical bikini in this Summer's collection), but this dress made me smile.
The sockmonkeylady has everything else you could ever want in the sock monkey department.
Edited to add: Thanks to criosa over at the knittyboard for directing me to the bra dress version on the designers blog....
Edited again to add: The dress is for sale.

Posted by glittrgirl at 11:21 AM | Comments (4)
August 24, 2006
Stuckists get first major art show

I have long been intrigued by Stuckism.
Radical international art movement for new figurative painting with ideas. Anti the pretensions of conceptual art. Anti-anti-art. The first Remodernist art group.
Not least because a friend of mine is a Stuckist and several of his pictures hang in a local hostelry, causing much discussion. The BBC, no less, reports that the Stuckists have got their first major exhibition. And about time too! The show runs through October at Spectrum, London. Go. Look.

Posted by glittrgirl at 2:38 PM | Comments (0)
August 16, 2006
Burtonwood & Holmes


I was reading Make (as is my wont) and saw an entry about artists Burtonwood & Holmes, and their latest installation, PRODUCT placement, a tank made from junk mail and cardboard. From their website:
Burtonwood (UK) and Holmes (USA) have been working collaboratively since 1999. Through painting, sculpture and installation Burtonwood and Holmes are resolved to produce work that challenges received notions about war and militarism. In particular they are keen to stress the economic imperative for war is key to understand how conflicts start and why they continue.
Posted by glittrgirl at 9:10 AM | Comments (0)
August 14, 2006
One Thousand Paintings - number 706
One thousand paintings is a project by artist, Sala, who is based in Switzerland. I liked the concept for this piece, as it is totally dependent on the Internet for it's success, and it truly global. Everyone who purchases one of the numbers is an intrinsic part of the process. I sought out the cheapest number available when I decided to buy one, and successfully bought number 706. It arrived at the weekend, and has been sitting waiting to be opened since Saturday. Well, it is here, safely and expertly packaged. And it now hangs on the wall in my living room. Thanks Sala!
Posted by glittrgirl at 11:53 AM | Comments (0)
August 10, 2006
Jenny McHardy - Intimidating Knitting Protects from Emotional Harm
There is a feature in this month's Knitting magazine about Scottish textile artist and knitwear designer Jennifer McHardy. It took me a while to track her down, but I found this page on the CraftScotland website.
Jenny's work is currently all about garments intended to intimidate - from CraftScotland:
She says "I combine these elements together to produce garments which look visually intimidating/ threatening and convey a strong sense of danger, in order to protect/conceal inner weakness/softness."
Her collection of garments and textiles all work together to protect the wearer from physical harm but it's the emotional side of protection which she considers to be the most important element to their design. Some garments contain hidden meanings with 'you make me go weak at the knees' sewn inside and swear words on the outside.
I love this kind of conceptual design - backed by strong research, and playing around with ideas which some may find difficult or challenging. Whatever you think, her work cannot be ignored and is, I think, very much of the leftfield knitting zeitgeist right now. Have a look at the website and decide for yourself.
Posted by glittrgirl at 1:56 PM | Comments (1)
August 9, 2006
Make your own 'Jackson Pollock'
Haven't you ever wanted to fling paint at a canvas a la Jackson Pollock? Well, now you can from the comfort of your computer....
Posted by glittrgirl at 3:21 PM | Comments (1)
August 7, 2006
Port Eliot Again, Again: the Round Room
And just because I can, some more of the mural from Robert Lenkiewicz in the Port Eliot house. The artist had a tendancy to paint himself in as a reflection in a mirror...

Posted by scumkitten at 8:35 PM | Comments (1)
August 5, 2006
Freddie Robbins

We-make-money-not-art reports on the work of Freddie Robbins:
Craft Kills is a self-portrait of Freddie Robins as St. Sebastian, with knitting needles piercing her woolly skin – a play on the idea of suffering for arts sake, and a comment on the view that craft is a benign activity.
Ronbbins' work is set to appear with the work of uo tp 20 other artists in a forthcoming exhibition entitled Radical Lace & Subversive Knitting, at the Museum of Arts & Design in New York, January 25 - May 6, 2007. Robbins has an experimental website which looks at the similarities between using the internet and knitting.


Posted by glittrgirl at 8:02 AM | Comments (0)
July 14, 2006
Nora Fok

Whip Up had a short feature on Nora Fok, and so I went scurrying off to fnd out more about this fascinating artist, who uses nylon monofilament in knitted, knotted and woven forms of textile construction. I love the translucent quality of the finished sculptural pieces which seem to capture light in their very being. The Crafts Council has a selection of images of her work, including some recent very wearable vegetable inspired jewellery, as well as this gorgeous sculptural ring piece. There is an interesting article about Nora's work on the Embroiderer's Guild website too. But for me, her best work is that done in colourless monofilament which entraps the light flowing through each object beautifully.

Posted by glittrgirl at 4:34 PM | Comments (4)
July 6, 2006
The Little Girl Giant and the Sultan's Elephant

Just come across this amazing piece of street theatre, a little late. Carried out by Royal de Luxe, a French mechanical marionnette street theatre company, they took this little girl for a walk in a number of cities last year. This footage is from London, Horse Guards Parade and St. James' Park. The accompanying music is 'Decollage' by Les Balayeurs du Desert. I have to admit, it tears me up, for some reason... others find it creepy, but not me (and that is unusual, as e.g. I loathe clowns etc.).

Is in Quicktime:
The little girl giant woke up at Horseguards Parade in London, took a shower from the Sultan's elephant and wandered off to play in the park.....
Further information and pictures
Posted by scumkitten at 12:56 PM | Comments (0)
June 24, 2006
Knitted house

With London Architecture week came to advent of the knittingsite.org A site to record the process of constructing a knitted house. Life sized. You can see the process from start to finish by looking at the two galleries of photographs on the knittingsite.org.
You can even download the pattern.

Posted by glittrgirl at 5:13 PM | Comments (2)
June 21, 2006
Texting in private

Joe Malia designed the mobile phone scarf as part of Private Public, a series of objects that highlight the privacy we sacrifice when using mobile technological devices in public spaces - a student show at the RCA, London.


By wearing the mobile phone scarf, you can venture into public spaces confident that if the need to compose a private text message were to arise the object could be pulled over the face to create an isolated environment.
Courtesy:
we-make-money-not-art
Posted by glittrgirl at 9:06 PM | Comments (2)
Bit late in sharing but.... knitted Fender guitar

knitPro has been featured here at glittyknittykitty before. knitPro is a web application that translates digital images into knit, crochet, needlepoint and cross-stitch patterns. The creators of knitPro, microRevolt, held a competition, the results of which came out a couple of months ago. Thanks to Rickster the Hickster for reminding me to look at the rest of the results. The Knitpro needlecraft art show is still online, but the winner was a knitted Fender guitar, by Sarah Stollak of Austin, Texas. The pattern is available to download as a PDF.

Posted by glittrgirl at 3:55 PM | Comments (0)
June 15, 2006
Knitted Ferrari

Artist Lauren Porter knitted a full sized red ferrari for her graduate show, and it is reported with pics in today's copy of The Times, with an online version. It's also featured in The Sun. Lauren spent ten months knitting the replica using 12 miles of yarn. The car is apparently a cross between a Testarossa and a 355 (eh? I'm a girl I know nothing about these things). It is made from over 250 squares over a steel frame and the horse badge is hand-embroidered. You can see her exhibition, 12 Miles of Yarn, at Studio 95, Brick Lane, London.

Posted by glittrgirl at 10:53 AM | Comments (4)
June 13, 2006
Ming Yi Sung

Ming Yi Sung makes fantastically humorous work using knitting and crochet, which some people out in the blogosphere just don't get. Read some of the comments on What Not To Crochet. Her work has been featured all over on the web, including one of our favourite blogs we-make-money-not-art Some people just take knitting and crochet far too seriously, which Brenda Dayne spoke about eloquently on her most recent podcast - with a whole episode encouraging us to explore humour in knitting. I'm with Brenda, and Ming, and loads of other artists we have featured here at glittyknittykitty. For pete's sake - get a life!
With freedom of expression, which we value so highly, we can be humorous in all walks of life, from the juxtapostition of totally unrelated words (a powerful way to disempower some of the linguistic taboos we have in western society, we think), to taking traditional crafts and turning them into something completely different, forcing us to re-evaluate how we perceive objects, artefacts, materials and concepts. Go check out Ming Yi Sung's website. Wonder, giggle and reflect on your own views of life, art and the universe, then come back here and tell us about it.

Posted by glittrgirl at 9:45 AM | Comments (3)
June 2, 2006
Some abstract purple...

Life seems very itchy at the moment. Many people I know personally and online seem as stretched as Stretch Armstrong and pretty much ready to snap. I'm not sure why and indeed, have felt the effects myself, eating too much home-made fudge than is good for one's bowels in retaliation. However, my emails with my new SP have made me chirpy and the last week has been beeeeutiful, with clear shiny skys, warm air (finally) and more than a hint of the summer to come. And the lido is open on the sea front. Yayayayay! So thanks to my new SP, here is a bit of a purple abstract from a tulip shot- I always think a jolt of colour helps the soul, as do painted toe-nails and some nice shoes.

Posted by scumkitten at 3:20 PM | Comments (2)
May 31, 2006
Dance Dance Revolutionary


Dance Dance Revolutionary is an arts initiative that aims to share information about radical activism through fun, participatory activities.
Dance Dance Revolutionary is a project about activist icons and the popular culture that surrounds resistance movements.
In a time when t-shirts and other commodities decorated with the faces of militant activists are readily available in fashion chain-stores, how and what do Americans really know about the values and stories behind these figures? Rather than spurning this co-opted aesthetic, I hope to transform it into a catalyst for discussion about revolutionary ideals.

Ultimately, my goal is to share the work of these women with more people, and to infuse their stories with a spirit of celebration. This can't happen without your participation, so I hope to see you and hear from you! Thank you...
Fereshteh Toosi, Frostburg, Maryland, USA
Posted by glittrgirl at 3:55 PM | Comments (0)
May 20, 2006
The Game
Not sure what category this comes under, actually: we don't have an 'ehkitty?' category. Have you heard of The Game? If you have, then you will at this very precise moment be saying something along the lines of
"Damn'n'blast I haven't thought of The Game for 4 YEARS and you've just made me think of it".
What is The Game? Everytime you think of The Game, you have to say out loud "I just thought of The Game"- and if you are with someone and they ask you what the hell you are talking about, you have to tell them about The Game... that is, as far as I can see it, infect them. I was infected last night, so I'm infecting all of you, because I am like that and do not want to be alone in my misery. Because I am currently thinking of The Game.
Posted by scumkitten at 12:43 PM | Comments (3)
May 15, 2006
Feleike van der Leest

Whip up showcases ther work of Feleike van der Leest, who makes jewellery and small objects incorporating knitting and crochet. Fastidiously crafted, her objects are both surreal and amusing. There are loads more on her website.

Posted by glittrgirl at 8:02 AM | Comments (1)
May 14, 2006
Annette Streyl

Knitted buildings, knitted parquet flooring, knitted trains....
German artist Annette Streyl uses the very different materials of stone and knitting (though not together) in her scuptural works. Knitted versions of buildings designed by Nazi architect Albert Speer have caused some controversy. Take a trip round her website and decide for yourself.

Posted by glittrgirl at 8:31 AM | Comments (0)
April 27, 2006
Knitted motorcycle

Garth over at ExtremeCraft blogged about this fabulous knitted motorcycle by Theresa Honeywell. She knits all sorts of other unlikely things like toolbelts and power tools - you can see a gallery created by ExtremeCraft over at flickr.

Posted by glittrgirl at 3:37 PM | Comments (3)
April 24, 2006
Interesting use of yarn

We-make-money-not-art highlights the work of Japanese artist Yasuaki Onishi who has used knitting yarn in his installations exploring darkness, fluorescence, and shapes through the use of lo-tech materials. You can see more examples of how he uses yarn - see there are some uses for fluorescent acrylic petroyarn!

Posted by glittrgirl at 12:07 PM | Comments (0)
April 19, 2006
Mark Newport
Mark Newport is an artist who uses knitting as his medium, creating superhero costumes. He has made knitted costumes for popular comic book superheroes like Batman and Superman, but has also created his own characters, such as The Patriot and Sweaterman. Sweaterman has his own set of illustrations and planned comic book.
Posted by glittrgirl at 7:38 AM | Comments (0)
March 23, 2006
Weird yet wonderful

I've always been a fan of strange animations. Here we have a still from a 6 minutes short animation by the director Gaelle Denis (Passion Pictures).

"Gaelle Denis initially draws a gray, desolate picture of the metropolis, depicting it as an intimidating presence. And so it is with Tomoko, a young Japanese girl who comes to London to learn English. At first, she doesn't like it a bit there. She hardly even leaves the house. But that changes radically when, quite by accident, she discovers a mysterious, secret underground city below London, a place that's colorful and friendly. In the wake of this experience, she meets a lot of new friends, learns English and makes one wonderful discovery after another."
Lumen Eclipse
You can see a 3 minute version of City Paradise at the Lumen Eclipse site.
Posted by scumkitten at 10:58 AM | Comments (0)
March 22, 2006
Ever wanted seven league boots?

Boing Boing brings us this beautiful work of art - an aerial mural of the Sacramento River that is woven into the carpet of a skybridge in Sacramento International Airport. So it is a flying carpet... and if you were particularly sad (and I think I would be), then you could spend hours whilst waiting for your flight striding over the land pretending to be a giant.

Posted by scumkitten at 1:46 PM | Comments (1)
March 10, 2006
Beautiful art made with knitting

Or so it says on this website... I particularly like the rabbit impaled on a carrot, the pink knitted S/M parlour and the disembowelled cat. I can't post that here because the Greeb would get very upset.

Posted by glittrgirl at 4:26 PM | Comments (0)
March 1, 2006
Pandora. Again. Just go there, ok?
I mentioned Pandora in a previous post (go there for explanations, I am too tired to go into it ), but I'm going to mention it again. Pandora is getting me through this damn contract work that is shrinking my brain, diluting my blood and generally sucking all life out of me. I have so far got 'music stations' for Eels, Flaming Lips, Kelis, Emiliana Torrini, Prince and Khonnor. It is just fab hearing stuff I have never come across. So go. And don't be afraid of not having a zipcode. Move to 90210 or something. I myself live in Roseville, CA, thanks to Sheepbomb (she's a honey and gives good fridge).
On a spookily relevant note, when I was wee, I was quite the thespian (and when I say small, I mean primary school. So very wee), starring in many a school and church production. My roles included Mrs Christmas, a monkey, the smallest bear, a crippled child, a gypsy, a Golliwog and Hope. Yep, I got to wear a white sheet and jump out of a chest at the very end of the play, scaring the bejesus out of pandora. I can't remember whether I was shut in the chest for the whole of the play or not. That implies that I was and that I have erased the memory from my brain.
Anyway, that might explain why I am always hopeful.
Posted by scumkitten at 9:22 PM | Comments (2)
February 25, 2006
Portrait

Scumkitten mentions a portrait which hangs in my living room. So here it is. Painted in 1991 by my friend Charlotte. It has some weird anomalies in it, but it's a good likeness, I think. And I sat for it. A lot. She gave it to me on condition I paid to have it framed, but I haven't found anything I like for it so far. And as its oil on canvas, and about 4 feet by 3, it won't be a cheap job!
I had to lift it off the wall in order to take advantage of the better light in the kitchen, which is why you see it at a funny angle and on the floor. With an investigative cat snooping around.

Posted by glittrgirl at 9:07 AM | Comments (8)
February 24, 2006
The Skitten Art Gallery increaseth

DJ Mikey and I, we're very lucky to have talented parents and grandparents when it comes to art (and other things, obviously, I don't want to imply that they are not talented in other areas). Our house has a number of massive modern art paintings by Mike's eccentric grandfather (my favourite being 'Flight of the Bluebird', which hangs in our bedroom. It's trippy, man) and several sculptures and woodcarvings by my own father (including a bronze resin bust of myself, see below). Anyway, my ego now has even more of an opportunity to expand to an unprecedented size, as DJ Mikey's dad has done a portrait of me which he has presented to my own parents. It is an incredible likeness- yes I do look like a pixie in certain lights and yes, my nose is that wonky. It is odd seeing a painting of oneself, but actually, I really like it. Click on the thumbnail above for a larger view, if you can bear it ;)


Here's the bronze: funny story about this- the original clay model had a bit of traumatic life- at one stage it was almost finished and left to stand in the studio over the holidays- when dad came back, the weight of my hair had caused it to fall over. Thunk. Later, once I had been rebuilt from scratch (!!!) dad decided to fire the clay model once a cast had been made. However there were air bubbles in my hair which caused my head to explode. I always knew my hair was troublesome.

p.s. One of the most intriguing and lovely portraits I've ever seen hangs in Glittr's sitting room, done a few years ago by a friend of hers- I'll have to photo it when I'm next there - more art, yay!
Posted by scumkitten at 11:00 AM | Comments (2)
January 30, 2006
Artist makes faux lacquerwork from porn mags


Boing Boing highlights the work of Yun Bai who creates faux chinese lacquer work from porn mags and acrylic (select Porn Flowers from the drop down menu). The resultant wall based pieces are beautiful, and its only when you take a closer look that you'll see they are created from smut. Try looking at The Nipple Secret Project too (choose from drop down menu).

Posted by glittrgirl at 2:23 PM | Comments (0)
January 15, 2006
Porcelain knits

Talking to zib in chat last night she pointed out these beautiful ceramic vessels on sale from Loop in London, by knitter and ceramicist Annette Bugansky.
Texture forms part of the pattern and colour and emotion of the pieces. Her work is highly tactile and sensual.



Her latest range of porcelain knitted texture vessels combines traditional and experimental knitting patterns to create surface pattern.



For each individual piece Annette knits a form to cover the vessel before casting it in porcelain. Porcelain has the ability to reproduce every detail and its translucent quality gives added depth. The porcelain is vitrified at high temperatures to produce a matt watertight surface.
My oh my these are lovely. I would love one - and the prices are not bad either!

Posted by glittrgirl at 4:05 PM | Comments (4)
January 13, 2006
An affectionate scarf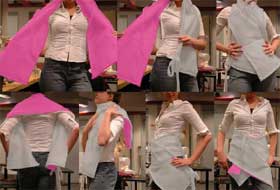 We-make-money-not-art brings our attention to taptap - a scarf that can play back recorded touch sensations, to be exhibited as part of the 2nd seamless fashion show, which I blogged here recently. Taptap is:
a scarf that can record, distribute and play back affectionate touch for emotional therapy. Three kinds of touch can be played back: the pressure of touch, the warmth of contact and the percussion of a friendly tap. You can record these sensations by placing the record/playback modules in the pockets of the scarf where they receive power. To play touch back, place the modules where you want to feel the touch and wrap the scarf around yourself tightly.
There is a video on the website of the creators. Now if we knitters could harness the power of touchback, we could do all sorts of interesting things with creative garments....

Posted by glittrgirl at 11:50 AM | Comments (0)
January 6, 2006
More Anarchy: Stop Making Scarves, Start Making Trouble

Many beautiful, political sweaters shown on this site, Steal This Sweater designed and machine-made by Lisa Anne Auerbach. Buckets of pictures, which GKK attach a warning to: don't go here if you approve of Bush and his evil bushbunny cohorts. I like this woman. Even better (if possible) are the issues of Everyday Hiking, the newsletter of the IHC (Interlopers Hiking Club). Issue 3 details their adventures in London, including blisters on Hampstead Heath and drinking at the Sir Robert Peel. Worth reading, if it's cold outside, there's nothing on TV and your neighbour borrowed your copy of Anna Karenina. Actually, just worth reading.


Posted by scumkitten at 9:07 PM | Comments (5)
January 5, 2006
Seamless fashion show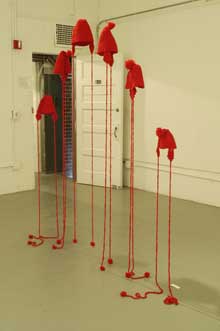 We-make-money-not-art reports on the second seamless fashion show about to take place on 1 February advertised as:

A runway fashion show featuring innovative works of interactive and technology-based design. This stunning collection, created by current and previous students of MIT, Harvard, RISD, Mass Art and Parsons School of Design, features real clothes that inspire and provoke. Emceed by MIT Media Lab's Chris Csikszentmihályi. Beats by DJ Technician.
Now then, this pic on the wmmna site features knitwear by Bea Camacho as you can see, and there is an intriguing mention of a crochet (sorry for the 'c' word) performance piece by the same artist from the 1st seamless show with a video you can watch of her 11 durational performance, Enclose, where she crocheted herself into a cocoon with red yarn.

The project is about concealment, self-preservation, isolation and duration.
Presumably the 2nd show will feature intriguing work in a similar vein!

Posted by glittrgirl at 10:53 AM | Comments (6)
January 4, 2006
The Sperminator.

For all you ladies out there looking for a high-class, artistic, vainglorious, absentee father for your future children, look no further than Vincent Gallo, actor, film-maker, musician and painter, who has apparently put his sperm up for sale over the internet. You may have seen him pulling big angst in Buffalo 66 or making merry with Chloe Sevigny in Brown Bunny, but I'm guessing things are a little tight for Vincent at the moment, as he is selling his bodily fluids on Vgmerchandise.com for $1m (£578,000 or thereabouts), with addition benefits if you are a bonafide babe.


Sperm is 100% guaranteed to be donated by Mr. Gallo, who is drug, alcohol and disease free. If the purchaser of the sperm chooses the option of natural insemination, there is an additional charge of $500,000. However, if after being presented detailed photographs of the purchaser, Mr. Gallo may be willing to waive the natural insemination fee and charge only for the sperm itself.
In addition, Mr. Gallo has a "distinctively full head of hair" and "If you have seen The Brown Bunny, you know the potential size of the genitals if it's a boy. (8 inches if he's like his father.)". Judging by the photo (left), he also has a good line in underpants.
In addition to his genetic material, Vincent is also currently selling, amongst other things:
Vincent Gallo's only Surviving Racing Glove From His Last Motorcycle Race (circa 1989). Autographed. $750.
Vincent Gallo's Childhood Nixon Campaign Pin Autographed Box, $250
Vincent Gallo's St. Anthony Medallion From His 1st Holy Communion, $1,000.
Shipping not included.
I really hope there are people out there who will buy this stuff. Art? Or mere whimsy?
Posted by scumkitten at 1:13 PM | Comments (7)
January 2, 2006
Anti-sit archives and memoirs of an art show
Improbable Research pointed me in the direction of the Anti-Sit Archives, which is a collection of photographs of architectural interventions which discourage loafing. Which in my book is a bad thing. Loafing and idling are good.

Anyway, the photos reminded me of an exhibition I went to see in 2004 at Belsay Hall in Northumberland, where a host of fashion designers were invited to create rooms in the Hall. I took some pictures of the installations making up Fashion At Belsay (FAB). The lingerie duo Agent Provocateur (I LOVE Agent Provocateur - take a look at their website. It is gorgeous. Their lingerie is gorgeous too) did the bedrooms upstairs, which I particularly liked, and which included an anti-sit chair. See there is a link. This Sadeian creation is a love seat with a difference - it's spiked.
The rooms upstairs were all done in different ways, but followed the Agent Provocateur take on sexuality, teasing and playing with notions of the sexual experience and voyeurism. We couldn't go into the rooms, but merely peep through the doors at darkened rooms, each containing a tantalising glimpse into interpretations of the bedroom lives of..... people.....

Posted by glittrgirl at 11:16 AM | Comments (0)
December 23, 2005
Knitted graffiti

Knitta is a small collective of anarchic knitters in Houston, USA, who bomb their neighbourhood with knitted graffiti.... There is an article explaining their work, together with interviews with the main protagonists, AKrylik and PolyCotN.
I love this idea - knitting things and placing them outside, circumventing traditional notions of what knitting is for and about, and reinventing street objects and our perceptions of them.

Posted by glittrgirl at 8:28 AM | Comments (3)
December 16, 2005
Crochet art

Lisa pointed me to this: elba benitez galeria site which has an exhibition of amazing crochet art (I know, I know, it's the 'c' word) by Portuguese artist Joana Vasconcelos. From the galeria website:
Her artwork A Noiva, 2001 –a huge lamp made out of thousands of tampons– was exhibited at the recently held 51 st Venice Biennale. In this new exhibition –Joana Vasconcelos' second solo show at the Galería Elba Benítez– the artist displays a collection of pieces relating to female and male identity and the dictatorship of image and fashion in a world in constant flux, split between tradition and modernity.
With its attractive, joyous, colourful and sensual language built from everyday objects often associated with the distinctive motifs of traditional Portuguese arts and crafts, the work of Joana Vasconcelos reflects on private and public spheres, on consumerism gone wild and on social roles assigned to men and women. These objects are de-contextualized, juxtaposed, broken down and blown out of proportion. This appropriation and modification of everyday objects –effectuated by applying an alteration to their original function and their basic, formal features, and by associating these with other objects of quite dissimilar design and function– gives rise to works of a rare and surprising beauty.
Posted by glittrgirl at 11:03 AM | Comments (0)
December 15, 2005
The 4 Poodles of the Apocalypse

Thanks to Lisa for pointing us to this marvellous exhibition of the work of Elizabeth McGrath at Billy Shire Fine Arts in Culver City, California, who makes marvellous Tim Burtonesque sculptures.
We at glittyknittykitty particularly like the 4 Poodles of the Apocalyse, but check out the other exhibits, some are rather rock 'n' roll....
Elizabeth McGrath
Altarwise by Owl-Light
Exhibition: December 10, 2005 - January 14, 2006
Billy Shire Fine Arts


Posted by glittrgirl at 10:39 AM | Comments (1)
December 1, 2005
Shaun of the Dead: in wool

Shaun of the Dead, to my mind, is one of the silliest, funniest British films to come out for quite a few years, despite what certain bearded, up-their-own arse film directors might say (for god's sake, please, you do thoughtful, deep work yourself, why trash something that shouldn't even be on your radar? This is all about silliness and fun. Go and mull over some Blake or something and then come back and play when you are willing and able to socialise with the other children). Thanks to one weird knitter, and Boing Boing (picture courtesy of BoingBoing and weird knitter).
In case you are wondering, this is the same weird knitter who re-enacted 'Dawn of the Dead' using wool.

Posted by scumkitten at 10:43 AM | Comments (3)
November 29, 2005
Ever wondered what to do with the dust that comes out of your vacuum cleaner?
Make sculpture out of it.....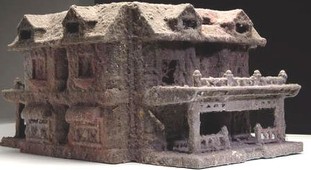 Boing Boing reports on an ex cleaner who makes art out of dust bag crap. Maria Lopez makes stuff out of dust bag material she collects from other cleaners.

Posted by glittrgirl at 10:21 AM | Comments (3)
November 10, 2005
Lomo-tastic!
One of the reasons I am so interested in Blythes is the (often) amazing photography that the Blythe community produce: in fact, many Blythe owners seem to come from artistic and/or web design backgrounds, which may explain something (Geeky? Obsessive? Yep).
Anywaysup, I found some photos recently which the taker noted as 'Lomo-esque'- very, very saturated colours, slightly out of focus, loud noise and with an odd 'vignette' feature which darkens the outer corners. I had never heard of Lomos before, so I did some investigating- it turns out the Lomo was a camera produced in the Soviet Union for peanuts which has turned into a bit of a pop icon. It is badly made, uses a terrible lense, has fixed, manual focusing, all of which result in vivid (or should that be gaudy?), trippy photos.
It seems to work really well with Blythes.
Stereo Mike and I are going to see how close we can get to Lomo-esque photos: this is our first attempt (click on thumbnail for bigger version):
Left= normal digital, Right= Lomo-esque via Photoshop
Not quite there, but I think the Lomo-esque photo has an oddly charming quality to it. Check out the luminous eyeshadow and the weird glowing footsteps!
Posted by scumkitten at 12:20 PM | Comments (0)
November 6, 2005
Ultimate grunge?
I file this under artykitty because I think these ratbikes ARE art.
The ultimate in grunge expression? Perhaps. Cool? Without a doubt. Sexy? Incontrovertibly. Fun? Well what do you think?
Browse the gallery and in fact the whole of the site for some amazing examples of the rat bike genre. Phwoar.
Posted by glittrgirl at 11:03 PM | Comments (0)
Knitting and opera
I saw a piece on The Culture Show on 3 November about a collaboration between Tete a Tete (an opera company based in the UK) and Shetland knitters and spinners. The Shetland Odyssey is a new commission based on the story of Odysseus.
I understand it previews in early 2006 - might be one to look out for.
Posted by glittrgirl at 10:53 AM | Comments (0)
November 3, 2005
A museum to visit?
When I was about 14 we had a familly holiday to Norway. part of the holiday was spent in Oslo, and we went to the Gustav Vigeland Sculpture park (this is prompted by a post today on Boing Boing which sparked this memory). We had a grand old time, and my mother was flattered and went all girly giggly when the waitress at the tea shop asked if she was old enough to drink a beer..... Yeah - she had me when she was 4 or 7 (whichever forms the appropriate calculation to get you to the legal drinking age in Norway).....
Anyway in the Boing Boing post there was a pointer the Emmanuelle Vigeland Musuem (Gustav's brother), also in Oslo... now that looks much more interesting.....
I shall make a point of going there next time I am in Oslo.
Posted by glittrgirl at 10:43 AM | Comments (1)
October 25, 2005
Knitted performance
The Yokohama Triennale is on right now, and Pyuupiru is a featured artist there - a Japanese artist who uses knitted costumes in performance.
Have a look through his current work on his own website, and the older works too - mirrorballtastic.....
Via We-Make-Money-Not-Art
Posted by glittrgirl at 4:24 PM | Comments (4)
October 24, 2005
Jellyscape
Elizabeth Hickok has made San Francisco in jelly.
Some amazing pictures in a little photo album - click the link or the pic for more.
Posted by glittrgirl at 1:06 PM | Comments (4)
October 21, 2005
Evil Fluffy Creatures
I once took part in a debate at University, as part of my Genetics Degree, where I argued that as a society there were serious ethical issues with our love of fluffy, cute animals (and our outrage at their bad treatment)and our dislike of non-fluffy etc. etc. (and the fact that fewer people would care if e.g. a frog or a fish were to be experimented on).
Well, it seems there are those out there who do indeed actively dislike those fluffy, cute lil fellas:
Firstly, March of the Sinister Ducks, a rather tremendous song that you can download here for yourself.
And I quote: "What are they doing at night in the park,
Think of them waddling about in the dark."
And secondly, a sadly now disbanded popular music group by the name of Moloko and their super track "Killa Bunnies", including the lyrics:
"Filthy fluffy creatures,
Teeth as sharp as knives,
The longeared ones are coming,
Run run run for your lives."
Marvellous.
Posted by scumkitten at 3:33 PM | Comments (2)
October 12, 2005
Blythe as you've never seen her before...
Art, for sure. But what to make of this amazing artist (Japanese, I think)? Sci Fi, with hints of russian and aboriginal folk art and more....
Just amazing.
Small segment taken from full image found from the artist's webpage:
Click here for full image and to here http://b2r.org to see other work.
Posted by scumkitten at 4:42 PM | Comments (2)
October 11, 2005
Following the JCB theme....
We have a JCB Ballet to a snippet of Swan Lake...
Who could've thought that large plant machinery could be so elegant.
Posted by scumkitten at 1:48 PM | Comments (0)
The Knitting Machine
Artist Dave Cole works with knitting on a huge scale, or any one of a number of things which turn the preconceptions of knitting on its head. His drippy pink weapons are really great too. You can checkout his work at www.theknittingmachine.com. Currently a show at Mass MoCA is attracting attention....
The Knitting Machine comprises two excavators specially fitted with massive 20' knitting needles. The knitting project is an oversized American flag - a flag which can be seen 'as both a celebratory gesture of pride and a commentary on America's role in world affairs' - so says the press release.
The Knitting Machine is one part of a three-part exhibition of Cole's work at Mass MoCA. In addition to the installation, you can see Cole's Memorial Flag (Toy Soldiers) (2005), a 5 ' x 9-1/2' foot flag crafted of 18,000 plastic toy soldiers wrestling beneath an impermeable glaze of red, white and blue; and The Evolution of the Knitting Needle Through Modern Warfare (2001), a convincing display of hypothetical army-issue knitting needles -- what Cole imagines Army needles would have been had the Army mandated them as combat equipment for seven wars, from the Civil War through the first Persian Gulf War. Until 25 October 2005.

Posted by glittrgirl at 12:05 PM | Comments (0)
October 10, 2005
Plants with beaks and eyes
This was highlighted over at Boing Boing
An anime video of weird plants, with eyes,and tongues and beaks and stuff. Compelling to watch.....
Posted by glittrgirl at 10:49 AM | Comments (4)
October 7, 2005
knitting, skin, conductivity - woo hoo!!!!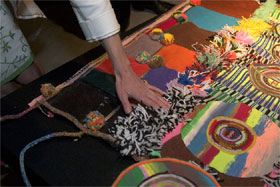 Interesting: From we-make-money-not-art Make A Baby, by Lucky Dragons, is an ongoing series of experiments into the possibilities of using skin contact between performers as a means of transmitting and controlling data and creating a positive social environment.
Cool! Well, I think so....
Posted by glittrgirl at 10:05 PM | Comments (0)
October 5, 2005
Controversy over Paris exhibit - Plancher de Jeannot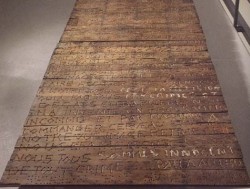 We-make-money-not-art, one of my favourite blogreads right now, reports on the controversy surrounding this exhibit of carved floorboards made by a schizophrenic farmer.
Posted by glittrgirl at 3:41 PM | Comments (0)
September 29, 2005
Blooming Big Bunny
Photo: Gelatin
Title: Hase (translated into your language Rabbit, Coniglio, Lapin, Conejo and so on)
Artist: gelatin
Year: 2005-2025 (the Rabbit will stay at its place for the next 20 years)
Location: on a Mountain Hill (Colletto Fava, 1600m) close to Bar La Baita above the Village of Artesina, Piemonte, Italy
From the press page: The things one finds wandering in a landscape: familiar things and utterly unknown, like a flower one has never seen before, or, as Columbus discovered, an inexplicable continent;
and then, behind a hill, as if knitted by giant grandmothers, lies this vast rabbit, to make you feel as small as a daisy. The toilet-paper-pink creature lies on its back: a rabbit-mountain like Gulliver in Lilliput. Happy you feel as you climb up along its ears, almost falling into its cavernous mouth, to the belly-summit and look out over the pink woolen landscape of the rabbitís body, a country dropped from the sky; ears and limbs sneaking into the distance; from its side flowing heart, liver and intestines.
Happily in love you step down the decaying corpse, through the wound, now small like a maggot, over woolen kidney and bowel.
Happy you leave like the larva that gets its wings from an innocent carcass at the roadside.
Such is the happiness which made this rabbit.
i love the rabbit the rabbit loves me.
Sigh, good, I feel better knowing that.
More info here.
Posted by glittrgirl at 4:01 PM | Comments (1)
September 28, 2005
Extreme knitting
I have been meaning to post this link for ages. You want extreme knitting? THIS is extreme knitting.....
Posted by glittrgirl at 12:27 PM | Comments (3)
June 29, 2005
And after 2.5 years talking about it.....
Stubnitz comes to the UK! Yay!
With two festivals in the pipeline she's going to be busy....
There's navigate and version...... and all on board this lovely lady..... get tickets fast these babies are set to sell.....
And my friends are organising it all...... well done you lot! You know who you are..... :D
Posted by glittrgirl at 10:38 PM | Comments (0)
February 22, 2005
A sheep WHAT rosary???????
Met some friends for drinks this evening..... they are working with an artist who is making rosaries out of sheep danny (as my friend used to call it...)....... watch this space......
Posted by glittrgirl at 10:46 PM | Comments (1)
December 15, 2004
The Great International Knit-A-Blog Challenge is REAL!
The Great International Knit-A-Blog Challenge, instigated by Rob, will begin on 17 January 2005.
We will blog the progress of the Work In Progress (WIP) here. 20 recruits each have the WIP for a week before passing it on to the next person. So far it will bounce between the UK, Finland, Italy, Germany and several States of America, before ending up back in the UK. The Finished Object (FO) will be auctionned and the proceeds donated to the Knitty Coffeeshop.
Please comment on the progress of the WIP as the pics appear, and if you have suggestions for content, do feel free to make them!
We cannot guarantee that anyone will take any notice, but it will be very interesting to see what you suggest!
We have had to start a reserves list of people wanting to take part. If we get enough interest we may start two WIPs and send them round the world in different directions!
Posted by glittrgirl at 3:10 PM | Comments (1)